MATH & SCIENCE GIFTED RESOURCE CLASS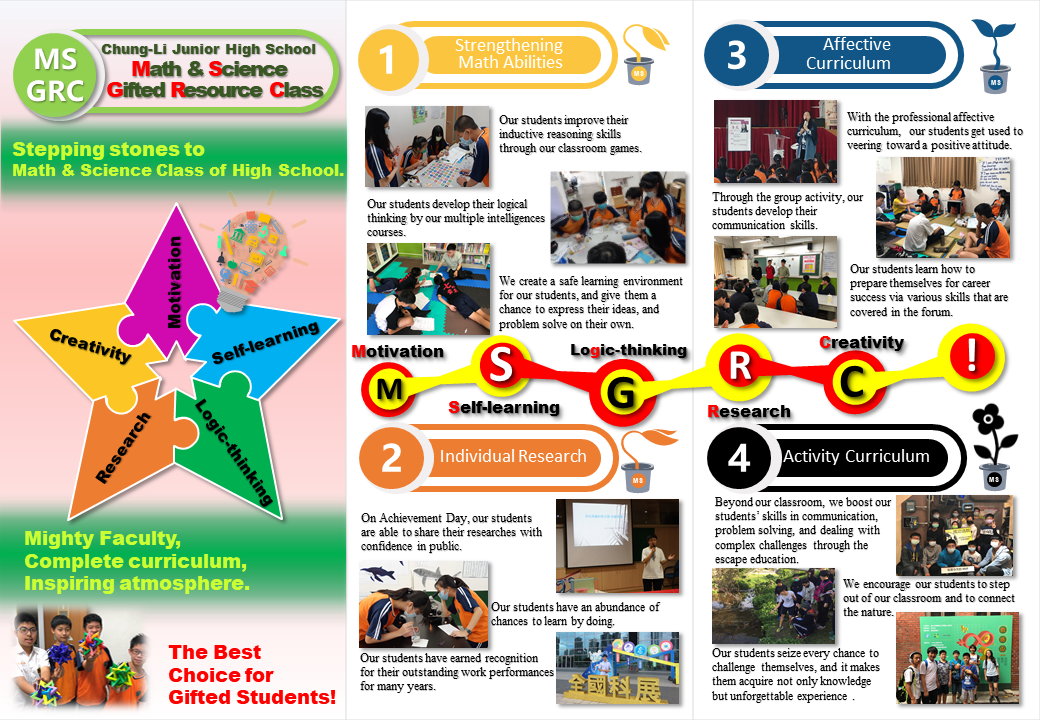 Chungli Junior High School set up three booths during the Creativity, Science, and Gifted Education Festival held by Taoyuan City on Nov 7 in 2020.
One booth is about the covibration followed by single pendulum, another is about the drainage of vortex connected with atmosphere pressure, and the other is about Soma cube of spaced-view drawing.
The weather was pretty good until the end of the day, and every booths were crowded with people attended. After a tiring day, students still got great achievements by full supports of parents, Academic Affairs Office, Couseling Office, directors, the leaders of the staff and all the gifted class teachers. Thank you for all of your attendances and help. Welcome to join the math and science gifted classes in Chungli Junior High, expecting to see everyone next year during the Science Festival.
Ministry of Science and Technology and Ministry of Transportation cooperated to manage the plan of Popular Science Train, where they made the 8 carriages into the sicence experiment fields. The first stop will start from Taipei then go around to 16 different stops around 16 cities, and it will take 4 days to go on a round way science trip connecting speicial science activities in Taiwan.
Two of our gifted-class graduates are studying in the science class at the Affiliated Senior High of NTNU, and through the video you can see them both attending this festival with joy and enthusiasm, at the same time bringing the pleasure to the public.
The math gifted class at Chungli Junior High joined the Homogenization couses with honor at Yang Mei Senior High, where they attended the DNA course, experienced the high class experiment equipments and many thanks to Yang Mei Senior High to broaden students' knowledge.
The math gifted class at Chungli Junior High try to give students more chances to know the real world by supplying them different missions, such as Room Escape game where they trained their logic abilities to achieve their goals with decoding clues and exceeding many restrictions.